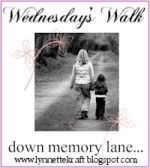 I forgot to mention that "Wednesday's Walk" is from Lynnette Kraft's blog:
You can click on either button above to join or read what it's all about!
Last time I posted, I talked about the memory of the loss of our daughter. This time I'm going to write about a happier memory and give a little glimpse of our history.
My husband & I started dating when I was 18 & he was 19. We dated for 7yrs before he finally proposed & we finally got married. I say that like I was waiting, but in reality, I loved my life just the way it was & really didn't care if we were married or not. We were "living the good life" so to speak. We were (and still are) best friends and spent nearly 24/7 with each other. We lived together (wasn't exactly the right choice) and we also worked together. That's where we met. Anyway, when he proposed, I didn't exactly respond they way you would think I should have. I think I said something like, "What? We didn't discuss this!" and of course his response was, "Does that mean yes or no?" I did finally say, "Yeah, I guess, but you sort of caught me off guard. I wasn't prepared for that at all!" Which was the truth. I feel awful thinking about it now. How shocked and hurt he must have felt. I just had honestly not thought about getting married and wasn't sure I was ready (I guess 7yrs isn't long enough:)). I did a lot of thinking and decided that I certainly couldn't see myself dating anyone else, and I KNOW I didn't want to start over with anyone else. We had already been through several ups and downs, but we truly did love each other and made it through (by the grace of God).
My younger sister and older brother had both just gotten married in the previous 5yrs and my parents made a suggestion that we "go away" somewhere and get married. My siblings weddings were very stressful for my parents. They were certainly going to support us if we decided not to, but the opportunity to travel and not go through the stress of a big wedding sounded awful appealing! They of course laced the thought with the support of money as well! So we thought about it and really we had already been living together and dating for 7yrs and neither one of us thought we needed a big wedding. So we decided to go to Vegas! We had several people that went as well. I have a cousin that lives in Vegas, so of course he came to the wedding. Both my parents, my sister and my best friend and her husband (that is also my husband's good friend).
When we got back from Vegas we had a huge reception. Not sure that we ended up saving any money by not having a big wedding, but we had a great time. We were still able to share our special occasion with all of our friends and family that couldn't go to Vegas with us.
Tiger & I toasting at our Wedding reception
My Daddy & Me
Sometimes I think that maybe we should have had a traditional wedding back here with all of our friends and family in a church, but I don't regret it. We are where we are now because of the decisions that we've made and the path that was laid out for us.
We did a lot of things the wrong way, but we've learned from our mistakes and we are better for it now. I have so much more to share from that moment up until now, but you'll just have to wait until next time to see what that is!
I have got to figure this whole blogging thing out! It took me just about all day to get it done with the pictures! WHEW!
Thanks for enjoying our memory!
Kelci