Yesterday was really a fun day. We got to spend some rare quality time with daddy. He was off yesterday and we decided to go to the zoo! We hadn't seen the tigers yet so we spent most of the time there, but got to see some other things too.
WOW!
We cherish the time that we get to spend with daddy, because he is gone a lot working. I'm very thankful that he provides for our family and that I'm able to be home with the girls, but mostly he's doing what he LOVES, driving a truck! His daddy was a truck driver and he's been driving since the day he could legally. Being a truck driver means that we don't see him as much as we would like, but there have been times that we have seen him even less, so we are grateful. He's here almost daily or nightly, but sometimes for very short for brief periods and it's during the night (when we are already asleep) and didn't even know he was here because he's up and gone before we get up. Needless to say, he doesn't get much sleep. But he tries to be home as much as possible and we're happy about that.
In order for us to go to the zoo, we unfortunately had to be there during what would normally be Kenidi's nap time, but believe it or not, she was really good! She still got her nap, but it was just later then she's used to. Sometimes it's ok to bend the rules, right? It's worth it when you get to spend good quality time together as a family!
She's lovin' on daddy! LOVE IT!
My oldest, Harli LOVES the zoo! A day at the zoo is a fabulous day for her!!!
She's my little Tiger! Hee Hee! Her daddy's name is Tiger! I don't know how to get that off here. Not sure why it says to see more images????
Have you ever noticed the beauty at the zoo? Harli LOVES flowers so her and I were just in awe of the beautiful flowers that we saw while we were there!
I wish I could figure out how to put all these next to each other instead of all under each other?????? Things I gotta play with I guess!
On another beautiful note......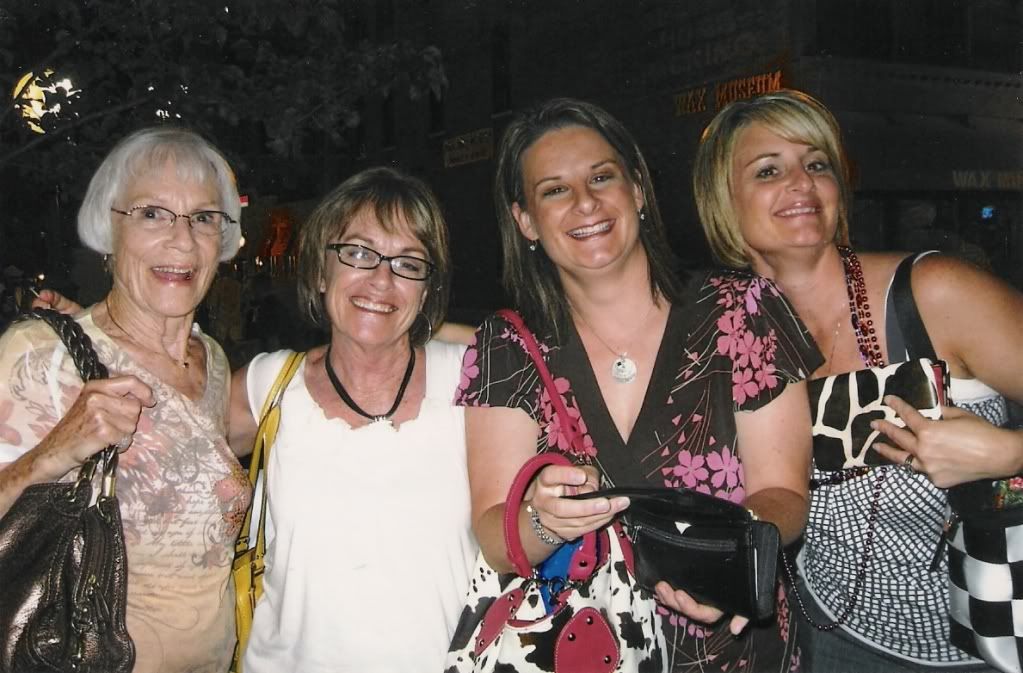 I LOVE this picture!
Three generations: Grandma, Mom, Me & My Little Sister
Thanks Shawna for the awesome picture and the awesome friendship and fellowship. Can't wait till next year! Look out KC here we come! I have to say, if you've never had the chance to experience Women of Faith, I highly recommend it!

That's it for today, but you can bet I'll be back!