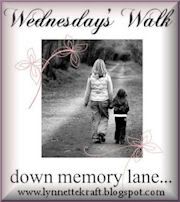 I hope you don't mind the interruption, but I need to share my feelings today.
Yesterday I started a very joyful post about our trip to San Antonio. I was going to use it for Wednesday's Walk, but I didn't get time to finish, so here I am instead.
Today was Bayli's due date, exactly 3 months and 2 weeks since we said goodbye to our little girl. It's been a very strange day for me. I've been trying to hold back the tears and distract myself today, but it just hasn't worked. I finally broke down just a little while ago. My day started off when I woke up late and didn't get my daily prayer time in like I usually do. Because of that, it felt like I hadn't really ever started my day, yet here I am and it's 2:16pm. Are you wondering if I made time for prayer? Yes I did. Finally. Boy did I really break down big time during prayer, but I feel so much better now. Partly because I needed to talk to God about my feelings and ask him for strength, and partly because I needed to let some emotion out.
I still think of my baby girl often. Believe it or not, I can picture what delivery was going to be like and I can picture holding her in my arms. She probably would have been here by now. I can picture the joy and chaos that a new baby brings. I was so looking forward to it, even though she wasn't our original plan. I dream of the day that I can be with her again. I hope it's soon! I want us all to be in the wonderful place that she is. I imagine it to be even more beautiful than I can imagine. Did that make sense?
I thank God everyday for the special people in my life that have helped me tremendously since we lost Bayli. They hold a special place in my heart, but I've figured out that it's God that has helped me and been there for me and he put those special people in my life.
I truly am thankful for having the short period of time that we had with Bayli. I know she was given to us for a special reason and now she's basking in God's glory!
So thank you for letting me spill it all out today. I sure needed it!
Blessings,